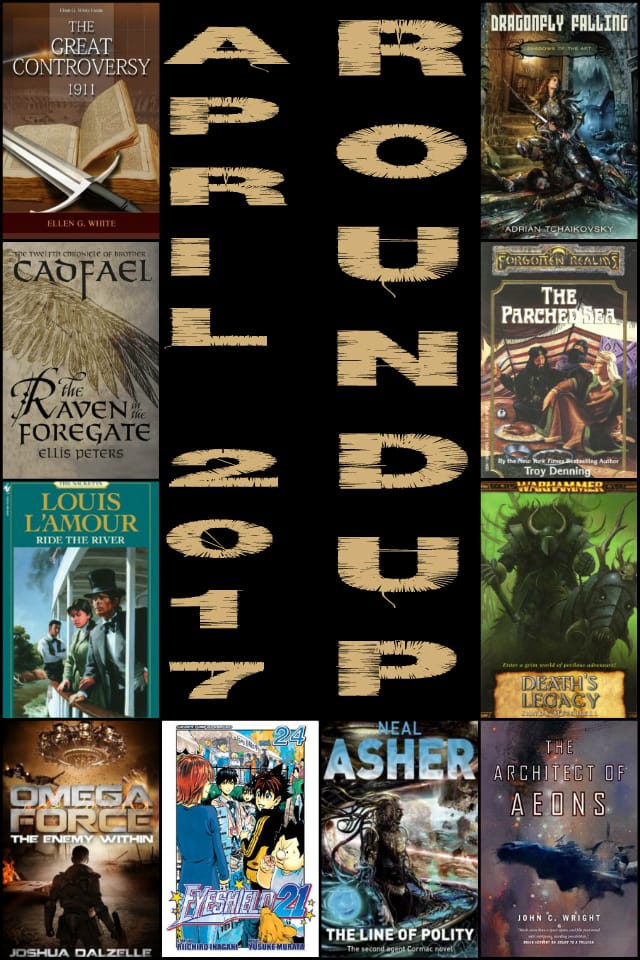 Collage created at Ipiccy
April can be summed up as Bleh. I only read 10 books, which for me, is about a 50% drop from my normal 15-20.  Part of that is that I read/finished some doorstoppers. The Great Controversy, The Line of Polity and Dragonfly Falling all weighed in at around the 700 page mark. The other part is that I started the Deadhouse Gates readalong with Dragons&Zombies and that book,while also a doorstopper, is just plain dense. You can't read it quickly and retain all that makes it so rich. I'm having to treat it like a steak that I chew each bite quite a bit to get all the savoriness out of.
Average rating was around 3.3 [10 makes it REAL easy to figure that one out] and that seems to be my usual average on an annual basis as well.
My Monthly Page count was approximately 4100. I should probably start doing that each month, as that is a much more realistic look at how much I've read. Number of books can be a bit misleading, or get manipulated [like how I finished March with 3 comic books to "boost" my numbers].
Least favorite book was the Parched Sea. The beginning to the Harpers series in the Forgotten Realms. It came in at 2.5 Stars.
Top book was a tie between The Line of Polity and Dragonfly Falling. Both were 4 Stars but one was Science Fiction and the other Fantasy.
I pretty much abandoned my Manga Monday goals for the month, as I just felt burnt out from reading a manga every week and reviewing it "on schedule". While I like order, too much scheduling makes me feel claustrophobic and like an axe is hanging over my head [hence, why I quit Netgalley. Deadlines and I are not in the same universe when it comes to "fun" stuff]. I got one volume in, so I'm going to try to get back to doing them on a regular basis, even if it is just twice a month or something. I've thought about trying to review a batch at a time, but I prefer one review for one book.
May is completely up in the air right now. If I get selected for Jury Duty, then I suspect I'll have a lot more reading time and you can expect my review numbers to follow. If I don't get selected and life just continues apace, I foresee my reading staying at about the same level. One more reason I want to start including pages read in future installments.
Question. When I [or others] include links to previous reviews, does anyone ever click them? I ask because I know that 9 times out of 10 I don't. That 1 time is helpful but honestly, if I never re-read someone else's reviews, I don't feel like my life would be that much poorer 😀 I'd like some honest answers if you have an opinion.
The only cover that even halfway grabbed my attention this month was this one: