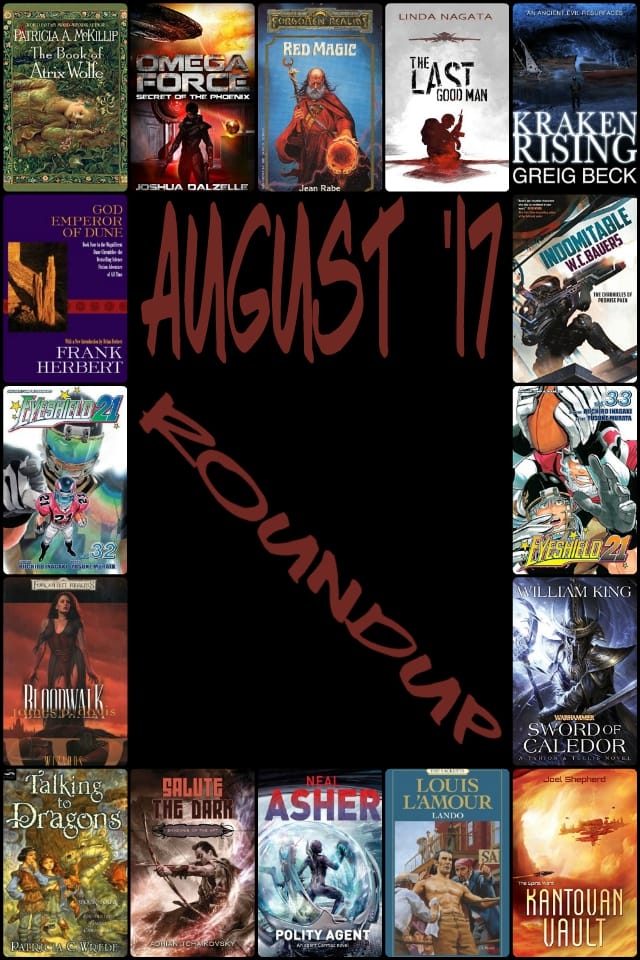 16 books this month and 5464 pages. It was a super mixed bag this month with some really high ratings and enjoyable books to ending the month on two 1star books. Combine that with the last week of the month being a tough work week and I have to consciously remember all the good books. So time to ramble!
The Good:
Salute the Dark 5 Stars
God Emperor of Dune 4.5 Stars
The Book of Atrix Wolfe 4.5 Stars
Funny thing is, all these books were re-reads. I OBVIOUSLY have great taste in books. Except I have some books going on The Bad list. Bleh.
The Bad:
The Last Good Man 1 Star
Bloodwalk 1 Star
Redmagic was a VERY generous 2 star on my part.
The Last Good Man, well, I liked everything about it. Except for the main character's motivations and reactions stemming from those motivations. Your mileage may, and probably will, drastically vary from mine. Bloodwalk was just a mess of debut book that had no editorial oversight. Not unexpected in the Forgotten Realms series.
I am nearing the end of the Eyeshield 21 manga and actually plan to read the last 4 or 5 volumes this holiday weekend and review them all. So expect daily double manga posts. You have been warned. After this, I'll be diving into the Oh My Goddess manga, which I own. It is finished, has 48 volumes and I've read up to #21 or #22 years ago. Starting from scratch and reviewing each volume, as before I'm pretty sure I wasn't putting any reviews for my manga.
After taking a break from the various Malazan books, I'm jumping right back in this month. My first book of September will be House of Chains, weighing in at around 1000 pages. I expect my book numbers to drop with that behemoth clogging up the highway but my page numbers to stay on track.
On the personal side, I wrote some very interesting, to me, posts this last month. A History of…Journaling was fun to write. Closing in on the My Favorite Things posts with only 1 left to write. I've really enjoyed listing my favorite books each month and am definitely going to miss that. However, I also wrote my initial Surviving a Bad Book and I'm hoping I can turn that into a regular set of posts for a couple of months.
Rounding these doggies up with some cover love now. Here is an alternate cover to God Emperor of Dune that I found when I was looking for covers for my ebook.
Now that is some old school cover art right there!