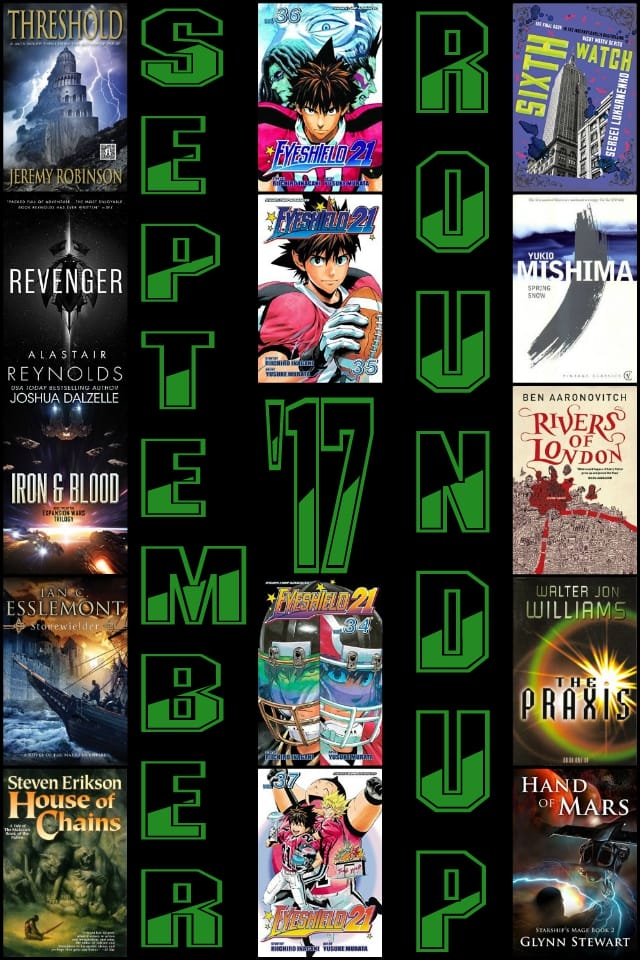 14 books and 5515 pages. 2 less books than last month but just about the same pages. Yeah!!!! Overall, I was very pleased with this month.
The Good:
Ready, Set, Hut  5 Stars
The World is Mine   5 Stars
Sixth Watch   4 Stars
House of Chains   4 Stars
The Bad:
Revenger   2.5 Stars
Spring Snow   2 Stars
Threshold   1/2 Star
Finished up the Eyeshield 21 manga this month and the top 2 spots actually went to that. It was a great finish to a great series. Took this month off from manga and will be starting up Oh My Goddess! in October.
Other blabbety blab bits and bobs. Finished up my "Favorites" series of posts. Did another "Surviving a Bad Book" post and it looks like that will be my next book related series of posts to do each month for the next couple of months. At least until the New Years.  Life was busy all month but I still managed to cook up some killer chili. Chef Bookstooge was a lot of fun to write with, just another Aspect of Bookstooge. It was fun enough to do a mini-foodee post that I'm thinking of doing another one each month for some of the survival food I keep on hand.  Survival Saturday has a nice ring to it, don't you think?  Did a couple of tags this month and the most fun to do was the TBR Tag.  Man, I love list'y type posts!
Ending up with more cover love. I read the Sixth Watch, which finished up the Night Watch series. All the covers, except for the Last Watch, shared the same theme for it's covers. I really liked them so thought I'd share the whole shebang in one go.