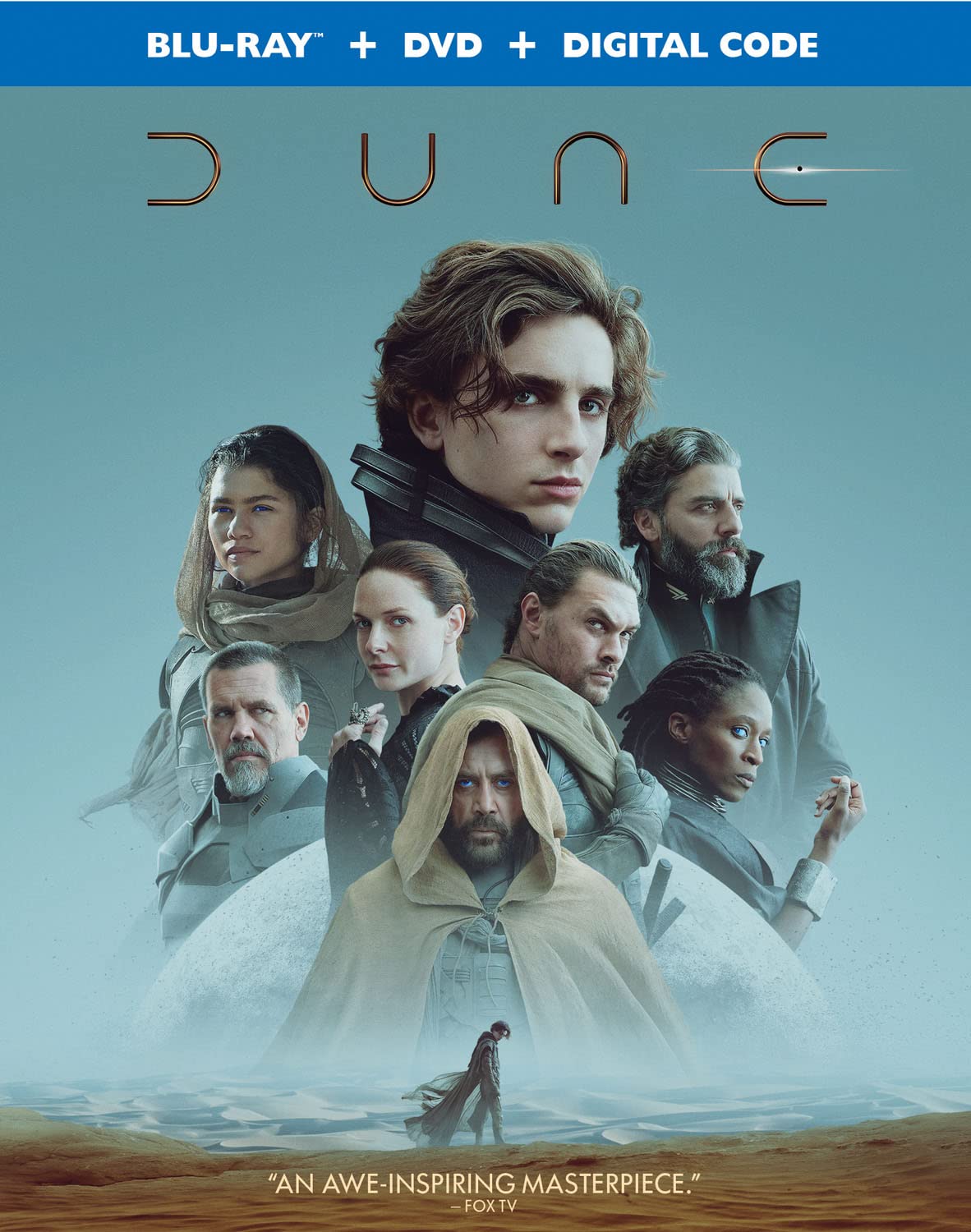 Oh man. What a movie! When this was being produced and talked about, I had my reservations. The gender change for Dr Kynes smacked of pure woke bullshit. The "Part I" let us all know it wasn't a complete movie and that was worrisome as well. As an avid fan of the Novel by Frank Herbert (having reviewed it 3 times since 2011), I do consider myself a bit of a snob when it comes to Dune.
Thankfully, I follow a couple of people who reviewed Dune Part 1 when it hit the cinemas back in October. Those reviews relieved all my fears and actually got me excited to watch it. I pre-ordered the blu-ray as soon as it was possible and it was released January 11. Because I'm a member of prime, I got it that day. Since then, I've watched it 3 times plus all the "extras".
Let's deal with the "problems". Kynes being changed to a woman didn't matter because they completely neutered the character's impact on the story. In the novel Liet Kynes is not only the Royal Ecologist for the Emperor, but is also the de facto leader of the fremen, leading their secret ecological fight to transform Dune into a watery paradise. In the movie, Kynes helps Paul and Jessica escape and then is killed by Sardakar almost by accident. It was laughable, in a pathetic way. I "almost" felt bad for the woman playing Kynes but not that much and she was just such a non-entity that the change didn't bother me like I thought it would. The other issue of this being Part One has already been resolved as this was such a success that Part Two is a green lit.
This follows the first half of the book and ends where Paul and Jessica head out into fremen society. As such, this was a real setup movie with lots of introductions to the universe. I thought they did a good job and kept it interesting with the whole Harkonnen / Atreides feud. I also liked just about every casting choice except for Lady Jessica. As minor as it may seem, her hair wasn't red enough for me. I know my mental picture has been influenced, greatly, by the SyFy (that's syphilis to the uninitiated) Channel's miniseries in the early 2000's. That is a very minor complaint though, so I'm not sure I can even really call it a complaint.
One thing I did miss was the dinner scene soon after the Atreides take control of Dune. It is very memorable and informs the reader/viewer about a lot of the political scenes going on. I didn't miss it on the first watch but on the second and third I realized it was missing and did feel it rather keenly.
The musical score was absolutely top notch. I felt like Hans Zimmer watched the finished movie and then wrote this weird, throat singing, chanting, atonal sound track that fit the barbarity of the desert of Dune and political fighting and betrayals that occur. I thought the music fit the movie perfectly. However, as a musical score on its own, it's an abysmal failure. I listened to it on youtube and it was shudderingly jarring and I gave up before I got to the halfway mark. I will NOT be buying the cd of this sound track. Here's the youtube embed so you can listen for yourself.
Since I got the bluray I also watched the extras. What few there were. While there were many in number, a lot of them simply repeated the same things or the same scenes over in a different way. There was no commentary track (something I tend to like) nor were there very many of the technical "making of" parts. There were a few bits and bobs of that stuff, but not anything close what I have come to expect from extras. There were no interviews with the cast, another thing I tend to enjoy.
Looking at this, it comes across as a check list of issues I had with the movie. The problem with that is that I really did enjoy the movie but it can be harder to write about what I enjoyed than what I didn't. For instance, I thought Timothy Chalot was a great Paul. He was small and wiry and looked like a young adult and not just a small old person. The Bene Gesserit "Voice" was done wonderfully too. I liked how the ornithopters were portrayed. I've always imagined them as mechanical sparrows but the change to make them more like dragonflies than birds worked aesthetically. The little bit we see of the sandworms and how the sand acts around them fit perfectly too. There were enough "little" touches that I wouldn't mind getting a directors cut some day 😀
My issues in watching this (and hence why I've watched it 3 times so far) is because it is VERY easy to mix up what I'm watching with the previous Dune screen incarnations. The 1984 David Lynch version was such an odd duck that you almost have to like it just for its weirdness but trying to keep track of what was from that movie and what was from the book gets intermingled in my mind. Then throw in the aforementioned SyFy mini-series and it's sequel series, Children of Dune and suddenly, well, there is a TON of information to keep track of. What was original to this movie, or what came from the 1984 film or the Mini-series OR the book itself? I think it is a testament to Frank Herbert that Dune has inspired so many incarnations and that us fans continue to lap them up and give them a chance.
I thoroughly enjoyed this movie and am very glad I bought the bluray. It is making me look forward to the sequel that much more. If you are tired of Super Hero movies but still need that bigger than this world feeling, Dune Part 1 might just fit the bill. If you liked the book, I think you'll like this too. It IS an adaptation but one that I am quite glad has been realized. A solid thumbs up.
I realize this is a bit longer than my usual posts, so thanks for sticking it out to the end. Cheers!