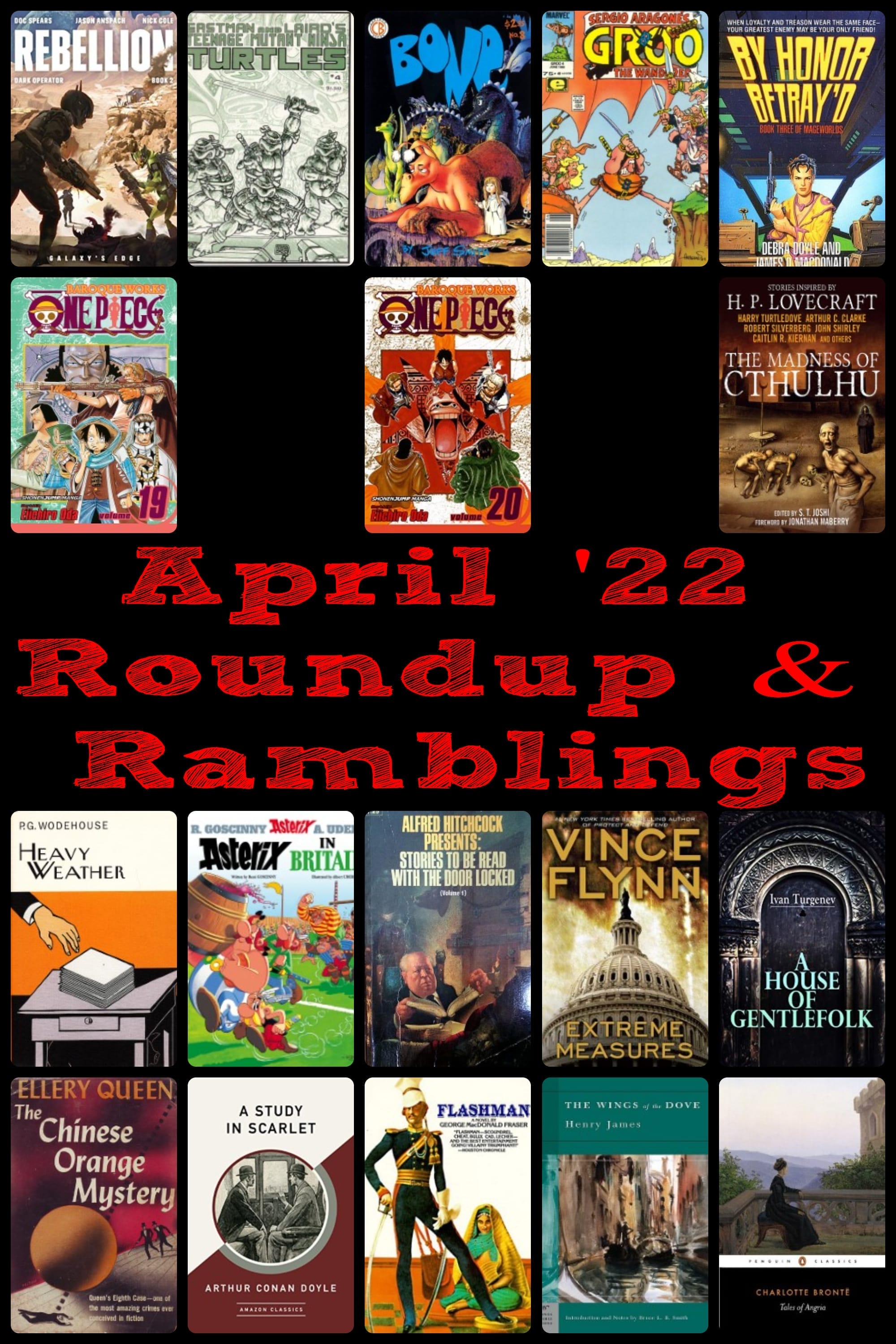 Raw Data:
Novels – 12 ↓
Graphic Novels – 6 ⭤
Average Rating – 3.03 ↓
Pages – 3430 ↓
Words – 1043 ↓
The Bad:
Flashman – 1/2star of Pure Filth
Tales of Angria – 1star DNF
Wings of the Dove – 1star DNF
The Good:
A House of Gentlefolk – You know you're having a rough month when a Russian novel is the best you can muster up at 4stars
Movie:
Fragglerock Season 4 was a great way to end the series!
Miscellaneous Posts:
Personal:
I started keeping track of my food intake again. Not trying to chart the carbs or calories but simply list everything I eat and drink. Simply being aware keeps me from mindlessly snacking and since I almost hit 170lbs at the dr's office, well, time to start the food fight again.
Good news is that my diabetes is getting under some good tight control (my last hemoglobin A1C was 6,8) with the sensor and pump AND my eyes haven't degraded in over 18 months, which means things are stable. The endocrinologist is happy, the retina specialist is happy and I'm happy!
Work has been much better. My coworker has stopped grumping so much and I got a raise, which is going straight into the massive tax hike we got stuck with this year. We owe a lot and I know EXACTLY who is to blame.
The reading bump I had gotten from getting covid back in January finally ended and I'm back to a bit more "realistic" numbers. The upside is that I won't have to write so many reviews each month; the downside is that now I have to be more "creative" to come up with other things to write about. It might turn out to be a bit more work than expected. Of course, with how April went in terms of numbers (every number!), I'll be glad to start a new month. This was the worst reading month I have had in a VERY LONG time 😦
With all that good stuff, there has to be something poopy too. WordPress. Of course. If you didn't know, WordPress scrapped all of their plans, changed everything to a free or expensive plan and pretty much killed off the chance of any casual new blogger from starting out. Those who had existing plans can still renew them at the old rate, but there is no guarantee of how long that "promise" will last. Basically WP gave the free bloggers the old heave ho and told all the inexpensive plan users to pay more or fuck off. AND even now, a month later, pertinent details like pricing and addons are still a mystery. I have never seen a business transaction handled this badly. Never.
Cover Love:
None of the covers this month grabbed my attention, and since I don't believe in the Participation Trophy mentality, NOBODY gets the cover love mention.
Plans for Next Month:
Since I started reading Sherlock Holmes I wanted to watch the 2010 series by the BBC. I plan on watching Season One and reviewing each episode on Sundays. SavageDave will be joining in so your Sundays will be filled with more Sherlock than you can shake a stick at!
To keep the Muppet theme going for movies, I am also planning on watching the Muppet's Wizard of Oz. Everything I've heard and seen leads me to believe this is going to be the worst Muppet movie I've ever laid eyes on, so hang on, because who knows what will happen!