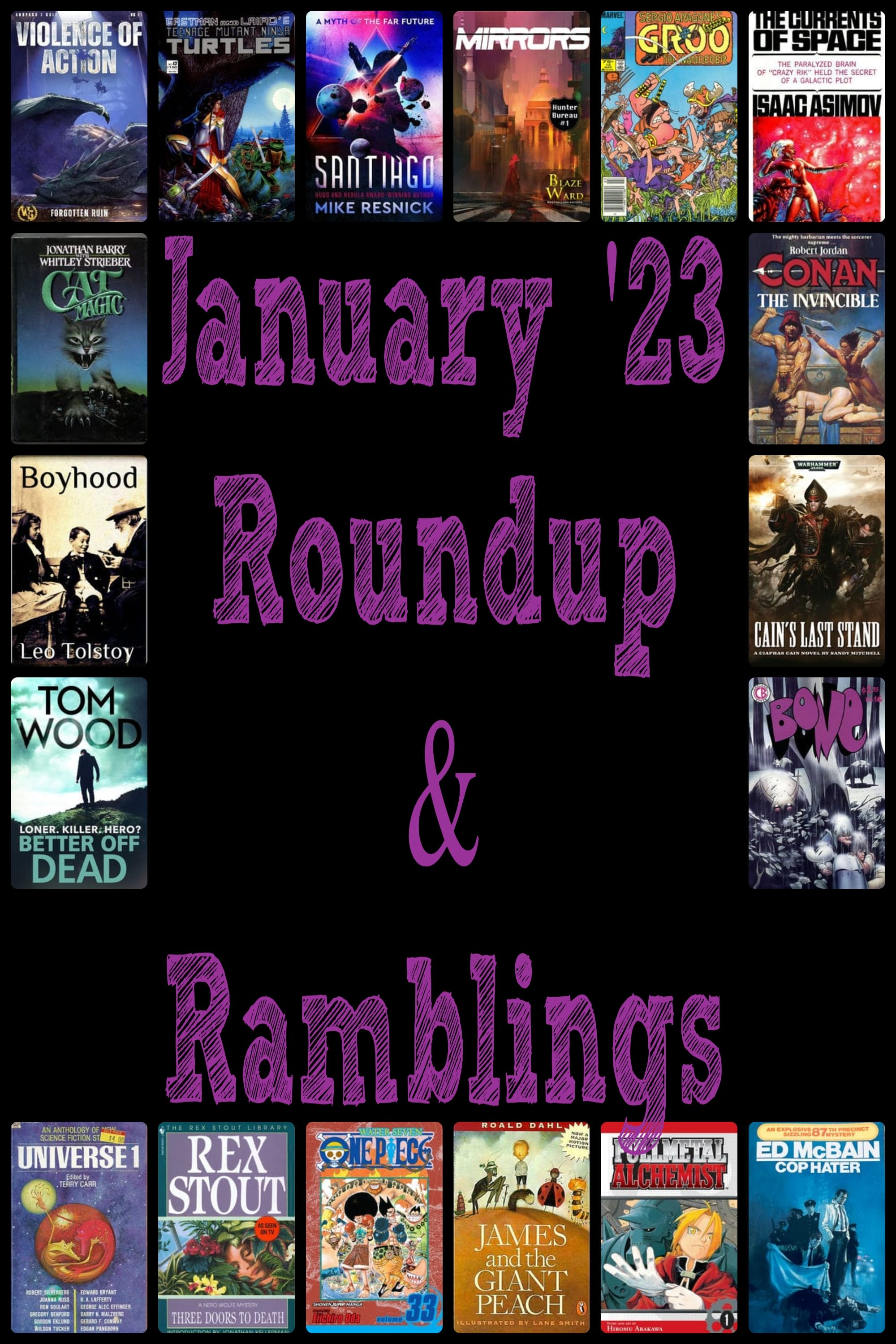 Raw Data:
Novels 13 ⭤
Short Stories 0 ⭤
Manga/Graphic Novels 2 ⭤
Comics 3 ⭤
Average Rating 3.19 ⭤
Pages 3238 ⭤
Words 1002K ⭤
The Bad:
Cat Magic – 2stars of cult programming masquerading
Bone #16 – 2stars of complete and utter filler
The Good:
Santiago – 5stars of re-read goodness
James and the Giant Peach – 5stars of just the right book hitting at the exact perfect moment.
Miscellaneous Posts:
Personal:
January has been one of the worst we've had in about a decade. Even worse than last year's January when we both got covid and had to go to the hospital via ambulance.
I got a light case of food poisoning between Christmas and New Years. On New Years, Mrs B had the start of a crohn's flair up that turned into the worst one she's had in 10 years. Then she got vasculitus and we're still dealing with that. Urgent Care visits, ER visits, dr visits, specialists being as unhelpful as possible, it all came together to make life as close to a living hell as we could imagine. While Mrs B is doing better now and her primary care doctor has started her down the right path of specialists to see and taken care of getting her out of work, Mrs B still has a good way to go before she's healthy again. This has obviously been preying on my mind the entire month.
Also, Mrs B takes a monthly injection and her specialist has completely dropped the ball on getting the authorizations for that. Thankfully, since I am me, and expect the worst of everyone and every situation, I had prepared for just such an eventuality. But it means the safety cushion is now gone so I have to start building it back up again.
Outside of work, I pretty much retreated into our condo and outside of church, had zero social time in real life. I'm still pretty raw emotionally right now and it doesn't take much to hurt me, hence the limited real life social thing. There's no need to take it out on other people who are just asking an innocent question.
What this whole time has also shown me is that when I am in the middle of a situation, I have ultra-mega-tunnel vision. I can't trust myself to look at the big picture or to think properly. Not being able to trust myself is very unpleasant and for an introvert like myself, extremely unsettling.
Because I've been so unsettled, my writing has gone up about 10,000%. I figured I was going to have many days in January where I had no posts and was kind of looking forward to doing nothing. But when I stress, I write. So I wrote every day here on the blog and actually already have half of February taken care of too. My personal journal writing became a daily thing instead of a weekly thing. The Cervantes Journal I showcased in November? I'm already 2/3rds of the way through it. It used to take me a year to go through one of those. I've also been reading my journal from my junior year in Bibleschool and I hope to be talking about that sometime in March. It's slow going because as emotional as I am now, I was a daily rollercoaster of ups and downs in my 20's. It's making my Freshman Journal look pretty even-keeled!
Multiple rain and snow storms have also meant work has been unsettled and so it feels like every aspect of our lives is in turmoil right now. All small stuff, you know, but like I said, tunnel vision makes it hard to get perspective. Even with church I am dealing with some interpersonal stuff, which while not bad, is just one more thing that makes me go "Oh come on, I do not need to deal with this right now".
I am tired and am not sure when I'll get to stop being tired. And so as you can see, the words just spew out like a raging torrent.
Plans for Next Month:
Pretty much exactly like this month. No movie, can't handle it at the moment (not that I'm not watching stuff. I'm actually watching quite a bit more to try to turn my brain off). So Magic Mondays, books, manga's and comics, some more of the PCP (Project Christmas Present) and if I get really words'y, probably some silly double posting just to vent and get it all out.