This review is written with a GPL 4.0 license and the rights contained therein shall supersede all TOS by any and all websites in regards to copying and sharing without proper authorization and permissions. Crossposted at WordPress & Blogspot by Bookstooge's Exalted Permission
Title: The City of Water, Water Seven
Series: One Piece #34
Arc: Water Seven #3
Author: Eiichiro Oda
Rating: 3.5 of 5 Stars
Genre: Manga
Pages: 230
Words: 10K
The Straw Hats win the Davy Back Fight and sail on to the island of Seven Waters where there is a whole city of shipwrights to work on the Merry Go. The shipwrights show their power and the Straw Hats convert all the gold into ready cash and immediately start having robbery attempts on them.
While the end of the Fight was stupid, the introduction to the shipwrights was as madcap as I could want in the One Piece world. And Luffy's response was just what I would expect from him, as evinced by this panel: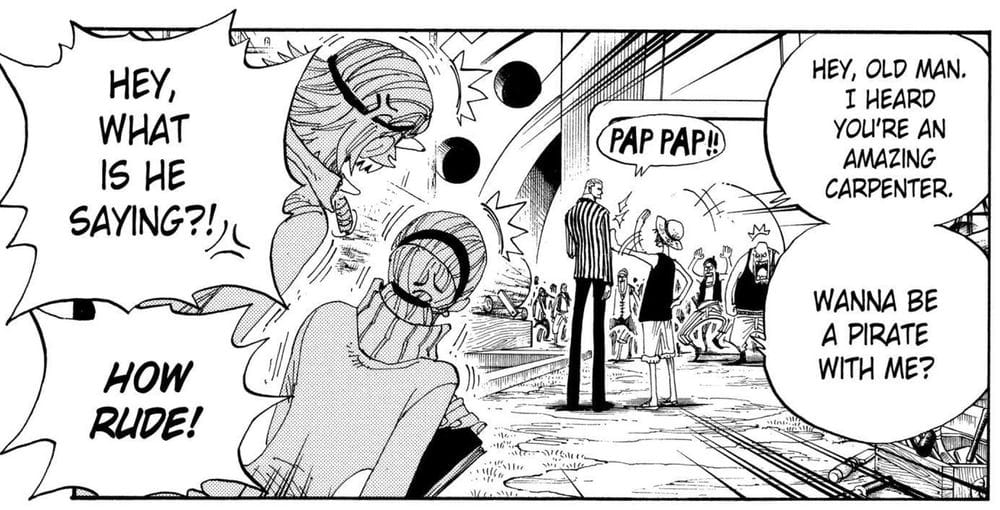 I now have higher hopes for this Water Seven arc than I did when it started out. That makes me happy.
★★★✬☆