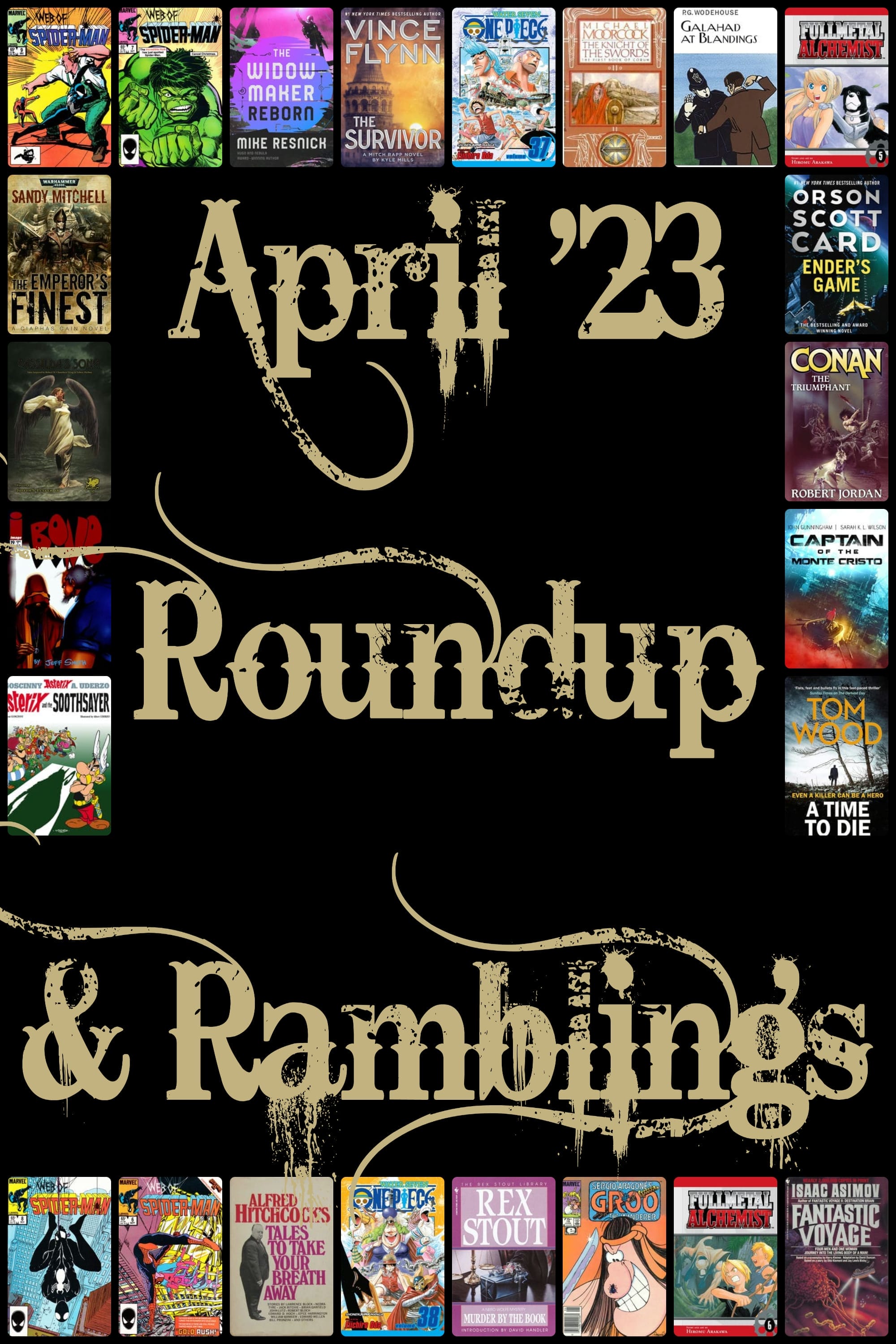 Raw Data:
Novels – 13 ↓
Short Stories – 0 ⭤
Manga/Graphic Novels – 4 ⭤
Comics – 7 ⭤
Average Rating – 3.25 ↓
Pages – 4049 ↓
Words – 1123K ↓
The Bad:
Captain of the Monte Cristo – 1star of pure crap
Web of Spiderman #6-9 – 2stars of drivel and bologna
The Good:
The Knight of Swords – 5stars of Eternal Champion'ness
Murder by the Book – 4.5stars of Nero Wolfe. 'nuff said
Galahad at Blandings – 4.5stars of Wodehouse succeeding at making me jovial.
Movie:
Shrek 2 was a great movie. While not quite as "deep" as the first movie, I found it to be funnier. Looking forward to talking about the third one in May.
Miscellaneous Posts:
Personal:
Mrs B was fully asymptomatic so she was back to her regular self. Working, eating, visiting, she was back. I hadn't realized how much of a burden it was until even the shadow of her illness was gone.
We ate out a LOT this month. My mom and Mrs B were going to go to a women's retreat at my former church one weekend but the entire staff came down with covid in about 24hrs, so it was cancelled. So mom stayed with my bro and sisterinlaw and we spent the weekend visiting a lot. We also took a young couple at church out to dinner to get to know them better. Man, it made me feel old. I'm only in my mid-40's but they are in the early to mid-20's and recently married and I was just laughing on the inside almost the entire time. It was great!
Part way through the month a memo went out that our hours were going to be changing to 48hrs per week. That was going to be a killer and I wasn't sure how we were going to actually do that. Thankfully our office manager told us that the reality was our hours (field crew) were going to be staying the same and so I'm still at 40-45hrs, which is fine. That was a big relief.
On Resurrection Sunday we were invited to an Easter Dinner with a family at church. They also invited another couple. Unfortunately, the female half of the other couple tends to talk non-stop when she's not completely comfortable, to the point of cutting other people off and not letting conversation flow. We were hoping that since she and her husband are comfortable with us (we've gone out to a great mexican place several times) that she'd be ok. It didn't work out that way and our plans to get to know the host family came to naught. They nor us could get a word in edge-wise. It simply reinforced my view that people, even when you like them, are jackasses.
I did get pretty close to posting only 1 post a day for the whole month. Much better than in March. I'm proud for not going crazy again 🙂
Cover Love: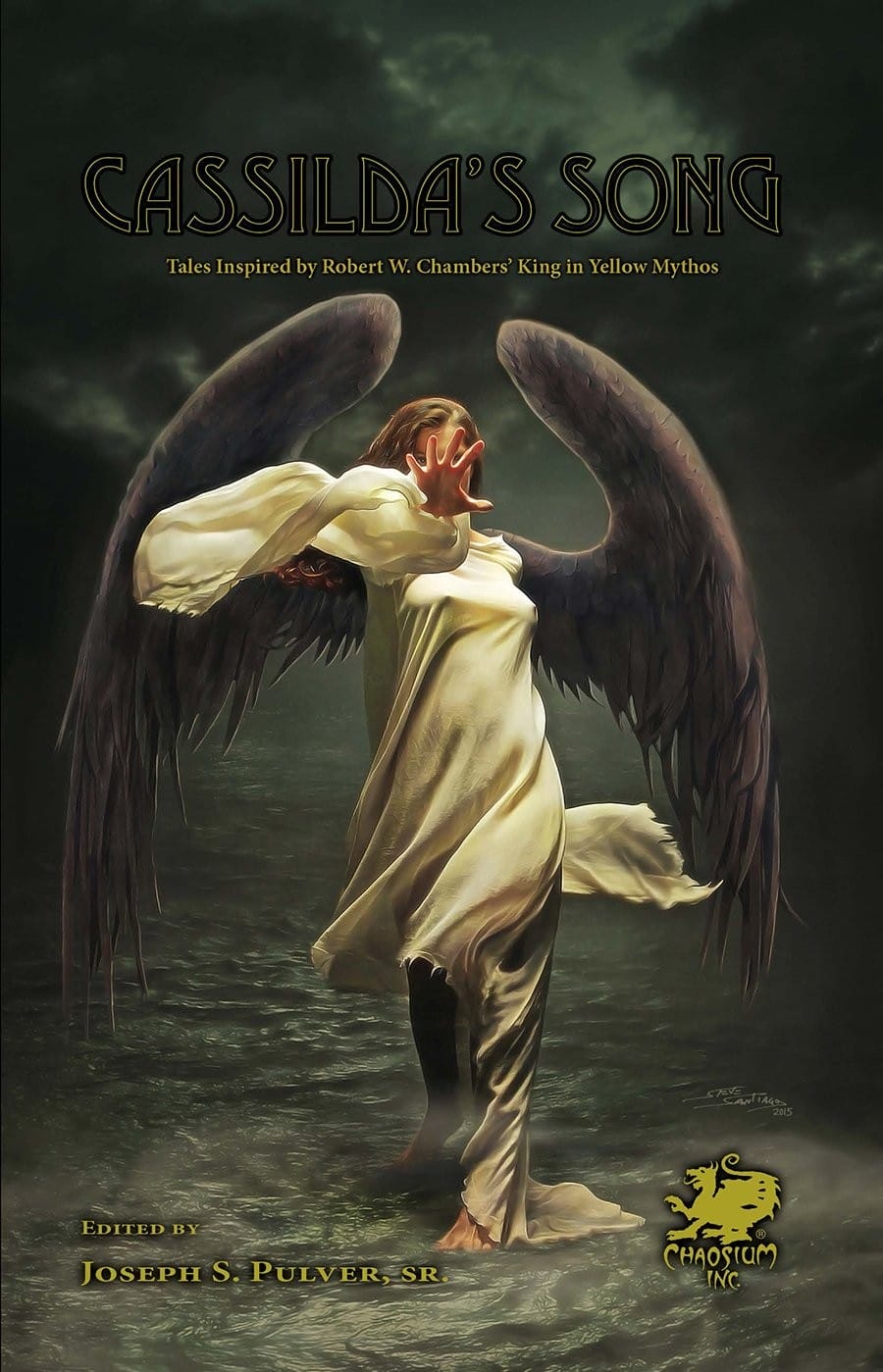 Cassilda's Song edited by Pulver was the clear winner for the cover love this month. The tattered, yellowish robe is close to what I imagine the King in Yellow himself wears.
Plans for Next Month:
I know I have moved a lot into the visual medium a lot more than even 2 years ago. Comics, manga, MTG picture posts, I feel like my focus is shifting. I don't know how comfortable I am with that. And I say that because I am thinking of adding a once a month post depicting some artwork. I'm still tossing that idea around in my head, so we'll see if it happens this month or not.
Other than that, it's business as usual. Book reviews on Tuesdays and Thursdays with the occasional but random Sunday and Saturday. Magic posts on Mondays, manga on Wednesdays and various comics on Friday. Then random stuff on random Sunday and Saturdays 😀 Routine is a great thing!