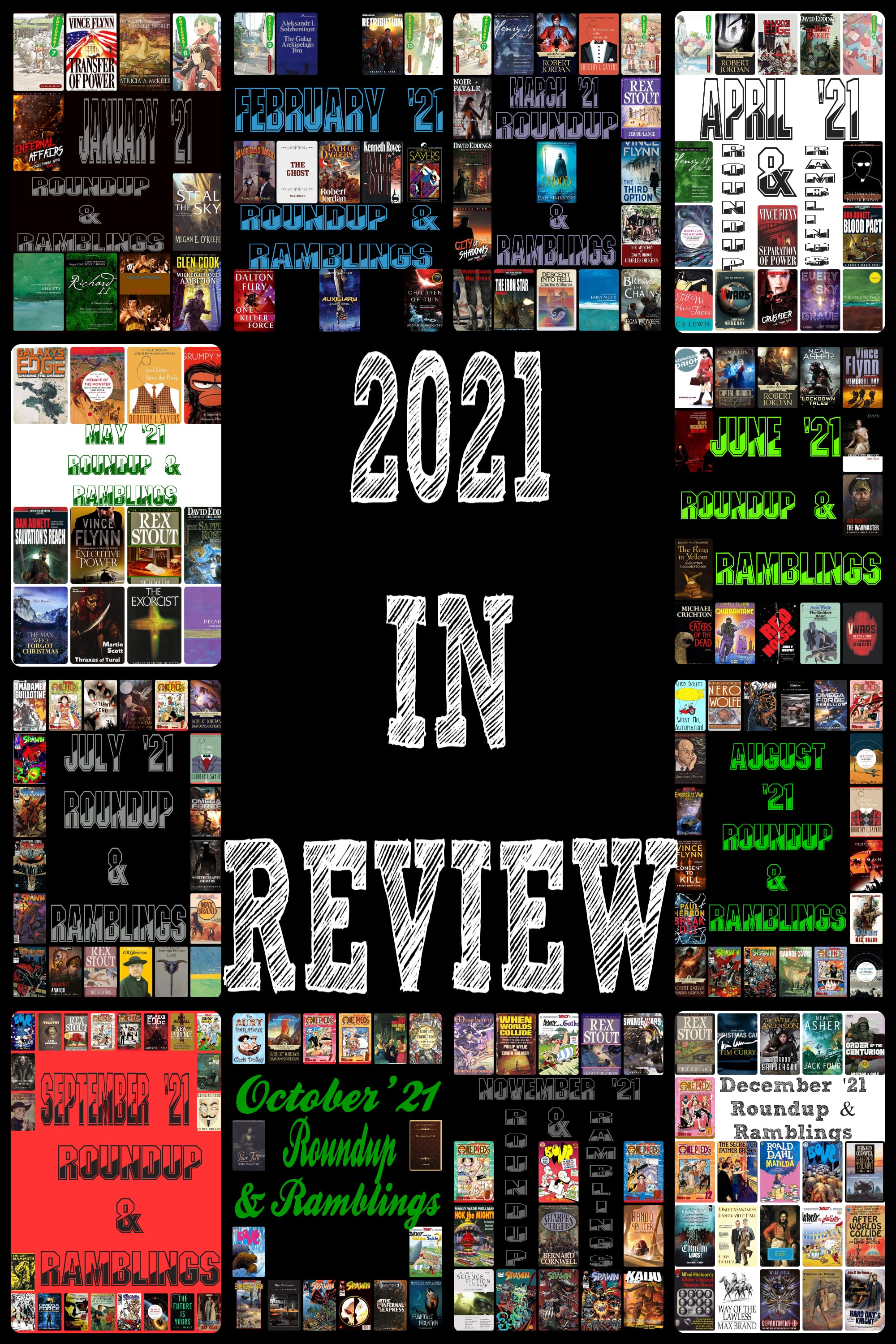 THE STATS:
Annual Blog Stats
Posts – 319 (↑29)
Words Written – 194.8K (↓3.2K)
Views – 27K (↑2K)
Visitors – 9.5K (↓0.5K)
Followers – 419 (↑40+)
Comments – 10.7K (↑2.4K)
Book Stats
Books read – 194 (↑38)
Average Rating – 3.38 (↓0.15)
Pages read – 49,401 (↓7.5K)
Words read – 15,361.5K (15 million rounded down) (↓1.5K)

GENERAL THOUGHTS:
General Bookish Thoughts:
That increase in Books Read is ALL due to me reading individual comics. The real story can be seen in the Pages and Words, as both of those went down. But this is exactly why I keep track of all 3 metrics. When 2 out of the 3 agree, that is the real story.
My rating dropping 0.15 isn't concerning to me at all and seems more like a typical variation than some trend. Sticking with some series longer than I should have didn't help either (looking at you, you forsaken Spawn!)
My interest in the Crime&Mystery genre really took off this year. With Alfred Hitchcock, Lord Peter Wimsey, Father Brown and Nero Wolfe, I had quite the uptick. In 2022 I plan on adding Ellery Queen to the mix too. Here's a little picture showing my genre breakdown (according to Librarything anyway). Clickable to be readable if it's not to you.
Re-reads. Between my manga reading, my Wheel of Time journey and Bone, almost 25% of my reading was re-reads. That's almost exactly the same as last year so I guess I've found my balance of new vs re-read.
WordPress this year was a real roller coaster. My experiment of going Dotcom and then UnDotcom'ing showed me that WP isn't worth money. I had more problems when I was paying than I did with the free site. That is just mind boggling to me. The block editor has moved into the minor annoyance area of my life with the stupid code monkeys changing little pointless things every couple of months. Continual pin pricks of irritation all year long. Kind of like walking through a field of brambles at work.
I tried some other websites (which I didn't blog about) and everything else was just as confusing as the block editor but with the added problem of not having a semi-decent social setup like here at WP. Coupled with me using Dropbox for my larger images (thus making space not an issue), it would appear that I'll be at wordpress for the foreseeable future. And since my Under Construction Project is getting close to being finished, I'm just not going anywhere.
My numbers are relatively stable compared to last year and I seem to have reached the level that is comfortable. Doesn't mean you won't get posts from me moaning and pissing about how terrible things are on my blog, or the ones where I crow like a rooster about some accomplishment that I didn't actually DO anything to achieve. But I am happy with my interactions here. I am looking forward to finding new bloggers in 2022 though, as The Churn has been just as active this year as in any of the past ones
Blogger is my backup blog for reviews. There is no way to interact in a meaningful way as far as I can tell but I just post reviews so it doesn't matter. Google just keeps shutting down various apps at random, so one day I'm sure blogger will get the axe too.
I still crosspost my reviews to LT. Back in June I abandoned LT as a social platform and currently have no meaningful social presence there.
Calibre continues to putter along just fine. The only news on this front this year is that the de-drm plugin has been taken over by another developer and forked into the no-drm plugin. I'm currently using Calibre 5.23 and frequently read the Calibre Forum. Having a free program that is a visual library of all my books that I've read over the years which stores all the data I want it to, and that can be backed up on a thumb drive or external harddrive and imported into such programs as Excel should the program ever go belly up (unlikely as that is how the creator makes his livelihood), is priceless.
THE BOOKS:
Best Book of the Year: New Evidences That Demand a Verdict by Josh McDowell.
Worst Book of the Year: Kaiju Rising: Age of Monsters edited by Tim Marquitz
PLANS FOR 2022:
Personal:
Well, our move to Georgia has been put on hold, so my immediate plans (3 months or less) have been scuttled like a russian secret submarine. So we are in a holding pattern. I'm going to start the process to acquire my Level 3 certification for the NSPS program (National Society of Professional Surveyors) and as that is self-study, it's going to take me longer than it might take somebody else. I don't like self-study, as buckling down is hard to do.
Work has settled down for me. It has taken 2 bleeding years, so it is about time. Mrs B starts working days again in a week or two and I am really looking forward to that. Being able to see her for more than 20minutes as she gets up and gets ready for work as I'm getting ready for bed will be nice.
Blog:
As of right now, no changes. I was considering changing how I do my reviews so I didn't have so much text (mainly in the synopsis part) but upon reflection, I'm going to keep sticking with it for now. I might try to use the Details html code a bit more though. I'm still considering if I want to make any changes to how I title book reviews. I'll probably think some more about it in January and make a decision by February. No sense rushing around and doing a rubbishy job.
I plan on continuing my Muppet watch. It was a fantastic success in '21, even the less than stellar ones, so I'm going forward. The more I watch, the more I find. I think I have found enough Muppet movies/shows to keep me going through '22 and a good way into '23. Amazing, as I had NO idea there was so much Muppet stuff out there. So expect to see that each month.
Project X runs out in April so I will be on the lookout for a new series of posts to do. My creativity is at an all time low though, so I'm not sure what I'll end up doing. Might do some arty posts with just a picture or maybe put a little effort into the Doom mini's I bought a year ago. There are options, I just need to think of them. If there's something you'd like to see on a monthly basis, let me know in the comments.
I do have some tentative Buddy Read/Watch options for 2022 and so as long as I don't sit in a funk all year those will happen. Shoot me an email at myname at protonmail if you're interested in doing something and I haven't already contacted you.
I am also hoping to make more use of the WP4 than I did in '21. When you have nutjobs like Dix, Alex and Fraggle just hanging around, I gotta put them to use somehow. Whether a collaborative post or just making fun, you can expect to see more antics in the comments and hopefully an extra post focusing on that Power Group. Plus, we're all wicked good looking!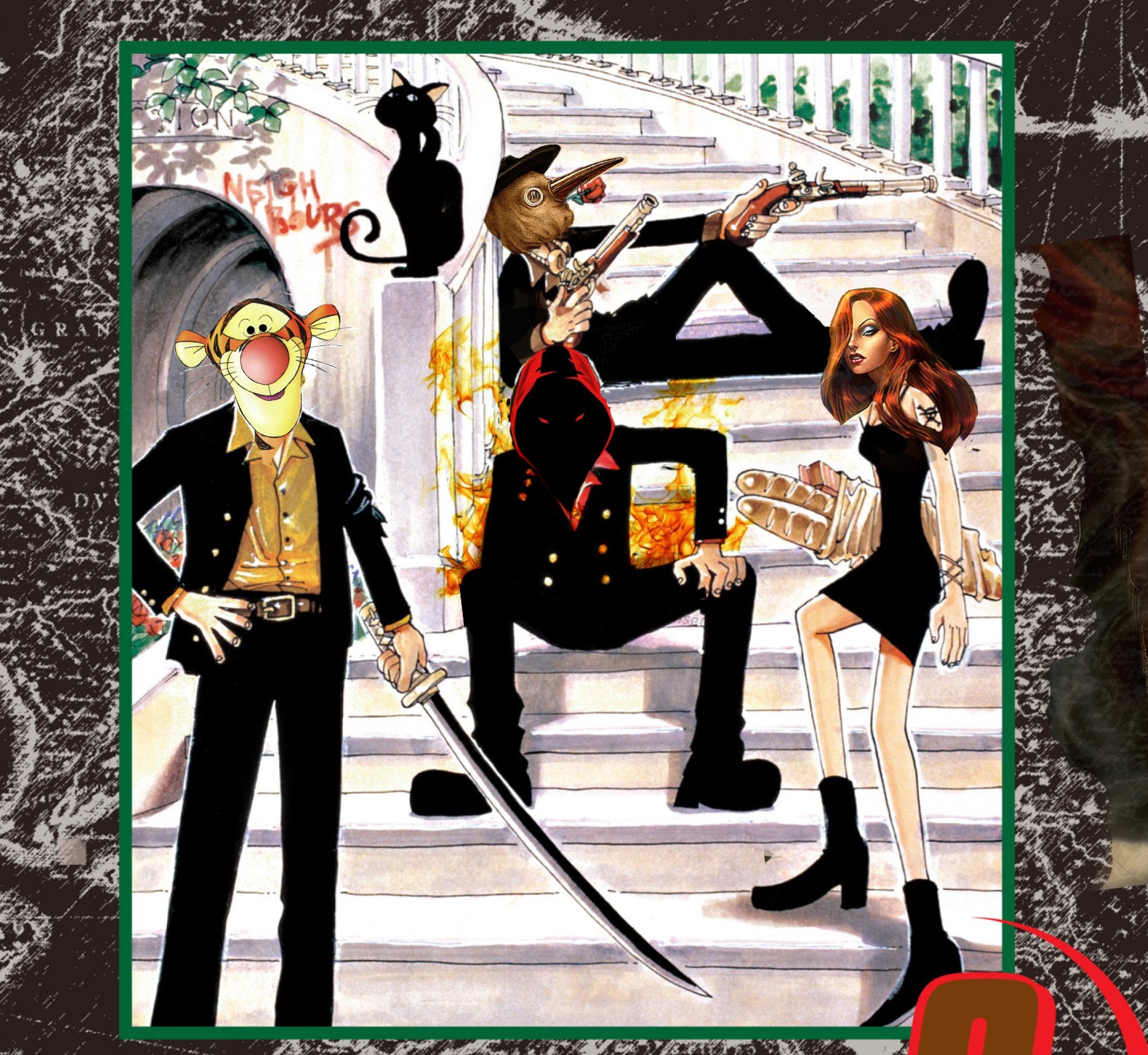 TOP 5:
Book Review Posts:
Non-Review Posts:
Commentors + Runner Up:
Movies/TV:
The Hall of Shame: