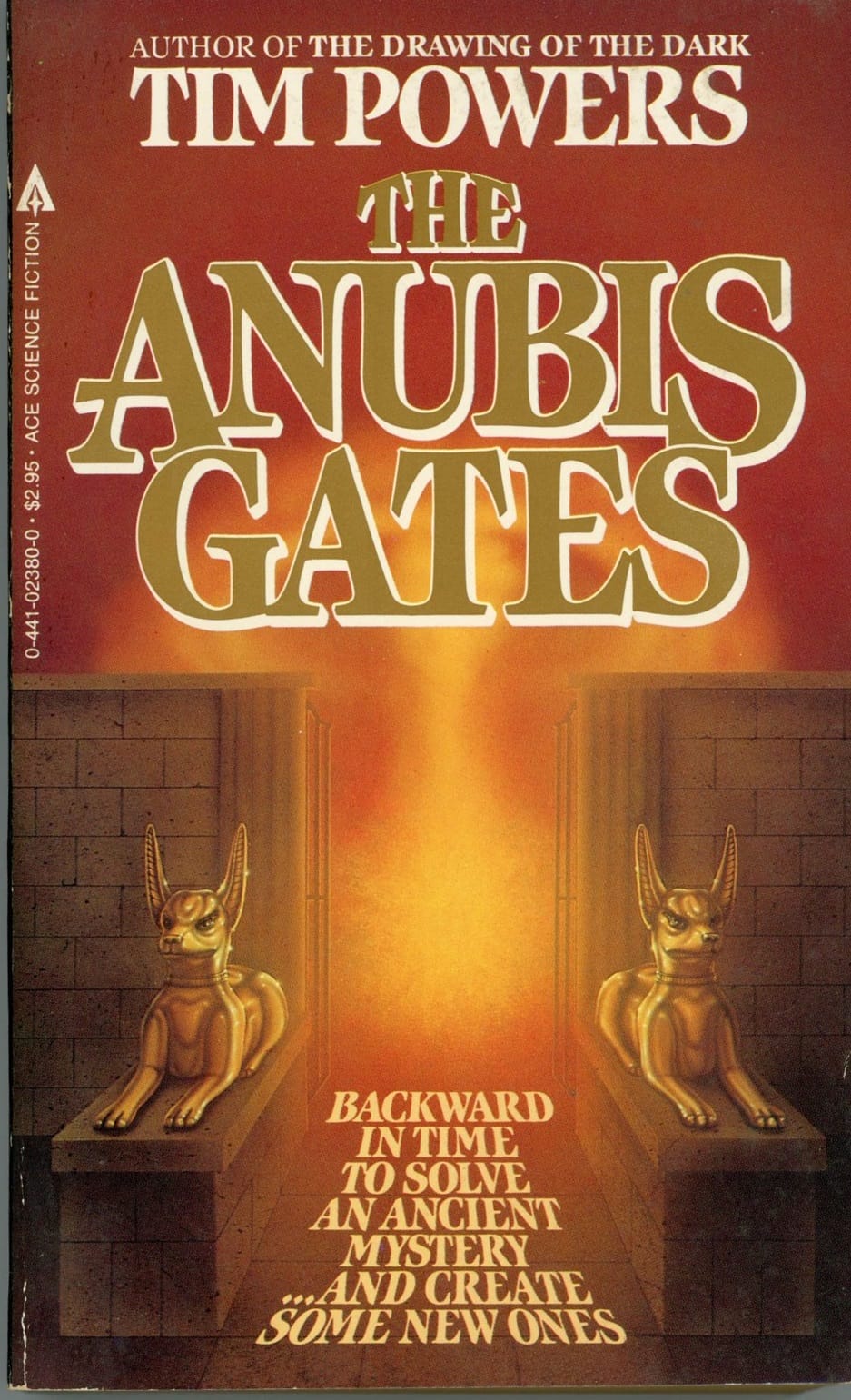 This review is written with a GPL 4.0 license and the rights contained therein shall supersede all TOS by any and all websites in regards to copying and sharing without proper authorization and permissions. Crossposted at WordPress & Blogspot by Bookstooge's Exalted Permission
Title: The Anubis Gates
Series: ———-
Author: Tim Powers
Rating: 5 of 5 Stars
Genre: SF
Pages: 353
Words: 162K
I've read this multiple times before and so I was wondering how this would turn out. After my recent experience with On Stranger Tides I had high hopes though and thankfully, this not only met those hopes but exceeded them.
Some old used up has-been magicians are trying to bring back the old gods of Egypt into our modern world (well the 1800's through 1980) but with magic drying up like a raisin, things don't quiiiiite go as planned. One of them gets possessed by Anubis and pretty much turns into a body switching werewolf. Another side effect is that time holes open up and people from our time figure it out and a dying tycoon takes advantage of it for his own purposes. Then the main character gets stuck in the past and has to deal with various other mad magicians who also cycle through time (they are trying to change history but their efforts simply make it happen, of course) and there is murder and mayhem and romance and lots and lots of weirdness. I loved every second of it. The magic was just different enough that it didn't affect me like in Powers' other books and for that I am grateful.
The only weak point is the ending. Once the main character accepts that he is now an obscure poet in a new body (that body switching Anubis guy causes a LOT of problems), Powers takes us through his life in about 10 pages and then right at the end, when he's like 60 or something, (at least if I did my math right) he gets to live his own life. It was a very amateurish attempt to deal with Free Will and Pre-destination. That wasn't the main point of the book, but it was a theme and I didn't feel that how it was handled was very professional.
For a book that I am giving 5stars too it seems like I should have more to say. But since this is at least my 3rd read, if not more, simply being able to enjoy the story and saying so is going to have to be enough.
This re-read has convinced me to seek out Powers' earlier work, The Drawing of the Dark. From my experience, the further into the past I go with Powers, the better I like his stuff. DotD was published in '79 so if my hypothesis is right, it should be right up my alley and possibly the book I like best by him. Only time will tell.
I've included the original 1983 cover, because just like with Santiago, this image is what is burnt into my brain to be associated with this story. While some of the later covers look very nice and all, they're just not the same garish awesome that I want. The little picture up above is clickable for a much bigger version for those who are curious.
★★★★★