This review is written with a GPL 4.0 license and the rights contained therein shall supersede all TOS by any and all websites in regards to copying and sharing without proper authorization and permissions. Crossposted at WordPress & Blogspot, by Bookstooge's Exalted Permission
Title: Pescatel (The Hatchery)
Series: Groo the Wanderer #17
Author: Sergio Aragones
Rating: 3.5 of 5 Stars
Genre: Comics
Pages: 24
Words: 2K
From Bookstooge.blog
Groo is lost, starving and drowning. He eventually makes it to land, finds a village surrounded by a lake filled with man eating fish and gets a job at the village being their war chief. He is sent out to destroy the villagers' enemies. Only, being Groo, he attacks their allies and makes them their enemies. When a second ally village is called to make peace, Groo attacks them as well thinking they are the enemies. Now everybody is an enemy of the village.

But thanks to the man eating fish, the village is safe. Until Groo releases the only fish that eats the man eating fish. The villagers finally kick Groo out and he runs into the villagers enemies. And proceeds to tell them everything.
---
When I read the previous Groo comic, Wakizashi mentioned that #17 was the first comic he had bought with his own money and was very nostalgic about it. So I figured I'd give him a shout out because things like that are important. Why you ask? Because I said so, that's why! And if you disagree, you can go sit in the corner without dinner and think about what a miserable wretch you are to even contemplate disagreeing with me. Wakizashi knows better and that's why he is eating a delicious fish dinner, just like Groo.
Groo is a walking disaster. I mean, if he "could" do something the wrong way, invariably he does it the wrong way. And yet he always walks away from the situation alive, even if he should have died. Aragones knows this is the formula and as such doesn't try to put pat endings on the comics. For example, in this issue the last page is of Groo walking into an ambush by the original villagers who hired him. Aragones doesn't show the battle but we know we're going to see Groo next issue, even if he's hurt and bleeding, hahahaa.
The other thing is just how ridiculous Groo continually is. I'm going to include a page from the comic to illustrate this. I laughed hard enough when I read that Mrs B had to ask what was going on. When I said "I'm reading a Groo comic", she just rolled her eyes and understood.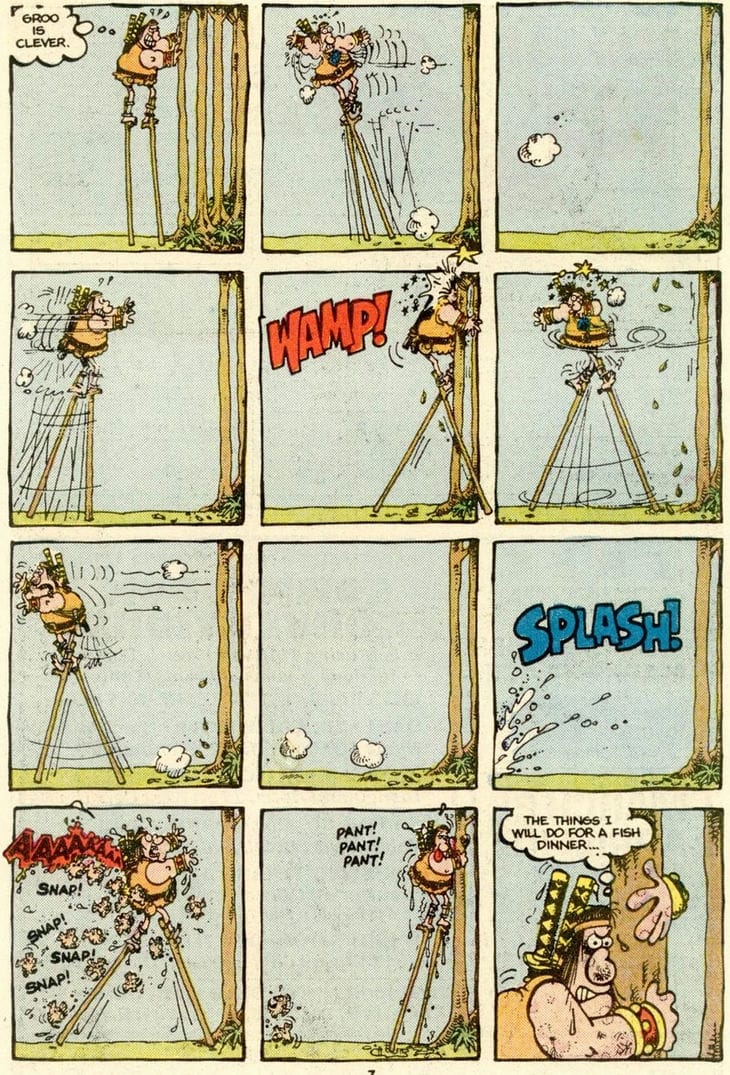 This whole page just sums up Groo to perfection.
★★★✬☆